Posted in
art
on 09/09/2011 07:37 pm by Shaenon
Childhood Heroine #4: The Childlike Empress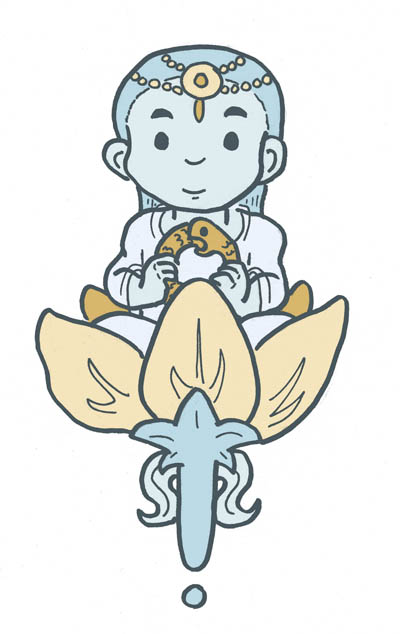 The trouble with playing Neverending Story with Joshua Wigley in Orange, Texas was that The Neverending Story has many merits, but a wide selection of prominent female characters is not among them. Joshua could be either Bastian or Atreyu, while I was pretty much stuck with the Childlike Empress, who, like Childhood Heroine #3 (The Sorceress), has awesome magic powers and all but doesn't actually do all that much. But what were my other options? I didn't want to be Bastian's talking mule, and the evil sorceress from the hand-shaped castle who seduces Bastian was an intriguing role, but even in second grade I knew I wasn't cut out to play femmes fatale. It was either be the Childlike Empress, or give up on the gender requirement and be the crazy monkey in the City of Old Emperors, who was my favorite character anyway.
Yes, I'm aware that if you've only seen the movie, the previous two sentences sound completely insane.
Anyway, we cleared this hurdle by beefing up the Moon Child's active role in the daily doings around Fantastica. She spent a lot of time riding Falkor, is all I'm saying.
Incidentally, I grew up to be a cartoonist and Joshua grew up to be a gay punk rocker, so the combination of He-Man and Neverending Story clearly has a beneficial effect on impressionable young minds.
Tags:
childhood heroines